As the following example shows, SimplyBook.me is not only for large established companies, but also serves young entrepreneurs starting a new business.
The Car Guys, a car-cleaning service started by a 16-year-old entrepreneur, needed a better way to book appointments than cumbersome phone calls and back-and-forth emails and texts. By installing the Simplybook.me plugin on the company's WordPress website, the Car Guys was able to streamline its appointment booking process and reduce the labor expended on booking by the founder's mother, who was feeling a bit overwhelmed by it all.
[stextbox id='info' caption='THE PROBLEM' collapsing="false" direction='ltr' shadow="false"]
Highlights
The Jewish holiday of Passover (in Hebrew, "Pesach") requires a family to get rid of all grains and leavened baked products in their possession. This includes cars. Pesach car cleaning is a ritual that many Jewish car owners dread. To address this problem, 16-year-old Noam Taylor opened a business called The Car Guys, which offered a specialized Passover car cleaning service.
Challenge: Wasting time and resources on phone-based booking for teenager's entrepreneurial car wash business.
Solution: Simplybook.me plug for WordPress enables self-service appointment setting
Benefit: Reduction in (mother-powered) appointment booking labor as well as a smoother booking experience for customers.
[/stextbox]
The Challenge: Labor-Intensive, Time-Consuming and Confusing Appointment Setting
For Taylor and his fellow teenaged employees, the car cleaning was the easy part of the operation. It just involved a lot of vacuuming and cleaning solutions. The appointment booking process was another matter. Taylor's mother had volunteered to allow her cell phone number on the company's fliers, which were distributed throughout the community.
During The Car Guys' first season in business, Mrs. Taylor received and placed hundreds of calls to fill the car wash schedule. It was a time-intensive and sometimes frustrating experience.
Furthermore, even with a dedicated booking person, some of the company's customers got confused about the times and dates of their appointments. They sent emails and texts requesting clarifications and directions.
As the next season approached, the business would need a better way of booking appointments, one that would allow Mrs. Taylor to go about her regular duties and not spend hours on the phone.
The Solution: Simplybook.Me WordPress Plug-In
Taylor realized that he would need a self-service, online booking solution or else he would be in endless trouble with his number-one unpaid employee, his mother. Working closely with his (also unpaid) IT consultant, his father, he selected the Simplybook.me solution.
The company's website was built using the WordPress platform. The Simplybook.me plug-in provided a straightforward way to include a "Book Now" feature on the site. With Simplybook, visitors to the site can book an appointment for themselves using a calendar interface. The interface, based on the plug-in, is responsive and works equally well on a PC, Mac or mobile device like an iPhone, Android phone or tablet. The screen shot below captures what the module looks like on the site.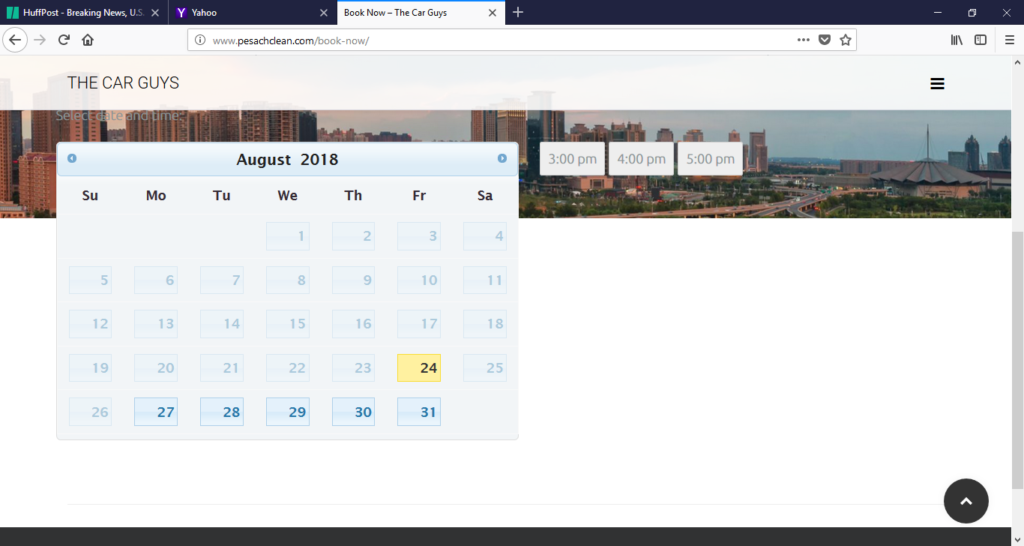 Benefit: Streamlined, Clear Appointment Booking
The Simplybook.me feature on the company's website has streamlined the appointment booking process significantly. There are still phone calls, of course, but many fewer. Most customers are setting their own appointments over the site. Then, with the Simplybook.me workflow, the customer gets automated appointment confirmations and reminders. The process is far simpler for both the company and its customers. Mrs. Taylor has gotten most of her life back and customers have less confusion about when their car wash appointments are scheduled to take place.
Article based on blog submitted to us by: Hugh Taylor (hughtaylor.com)